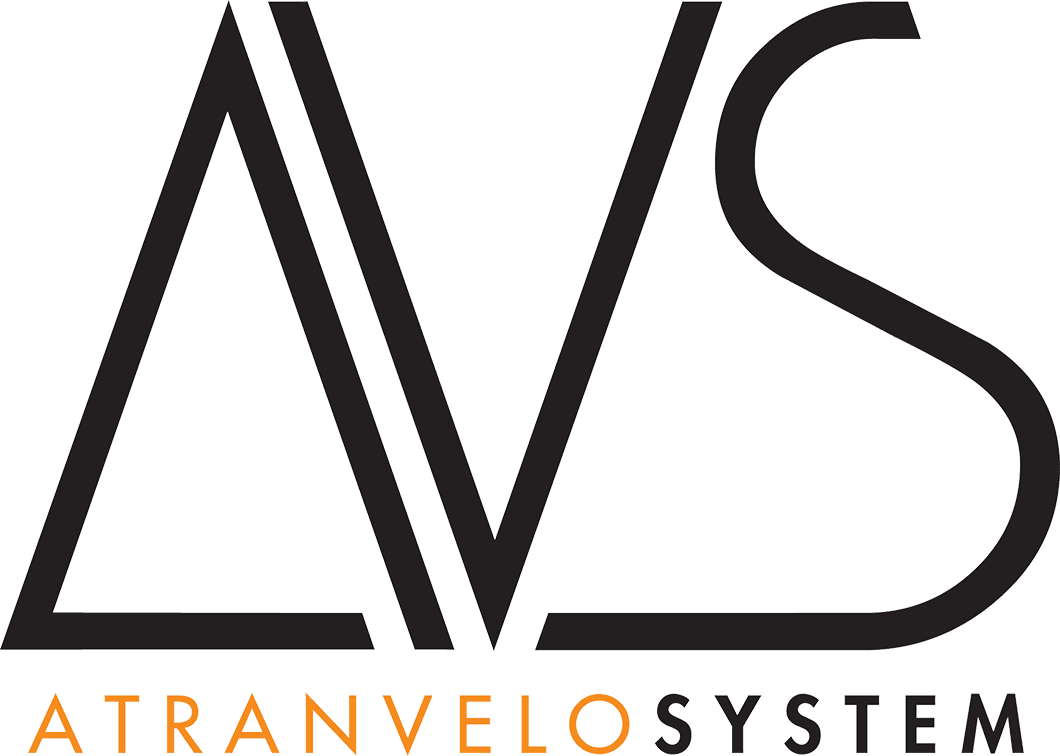 Introducing the AtranVeloSystem, our award-winning innovative solution for securely attaching accessories to your bike. Our system offers a wide selection of high-quality bags, baskets, and crates to suit a variety of needs. All our accessories are designed to be modular and compatible with both front and rear carriers, allowing you to customize your setup to suit your preferences and needs. The patented design allows for easy one-handed attachment and detachment, making it easy to switch accessories without having to hold the bike.
Our AVS system is known for its user-friendliness, functionality, and elegance. The minimalist and intuitive design ensures that anyone can start using it right away. The attention to detail in our system ensures that your accessories stay securely in place while riding. The smart design allows for easy switching between different accessories and baskets, with the flexibility to mix and match as you wish. AtranVeloSystem is the perfect choice for those who value both practicality and aesthetics.
To attach any bag or basket, simply slide the hook into the small bridge on the carrier.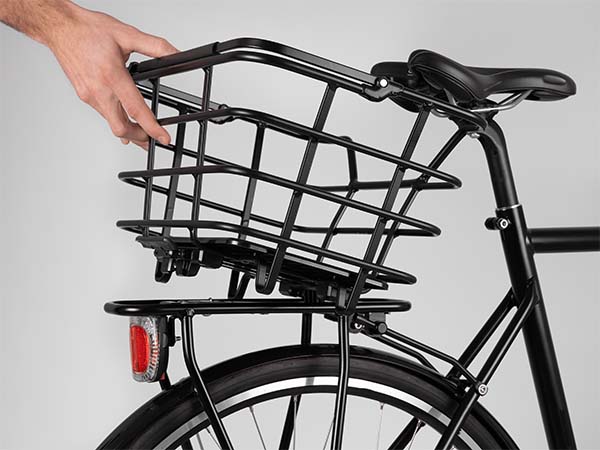 Push it down til you hear a click.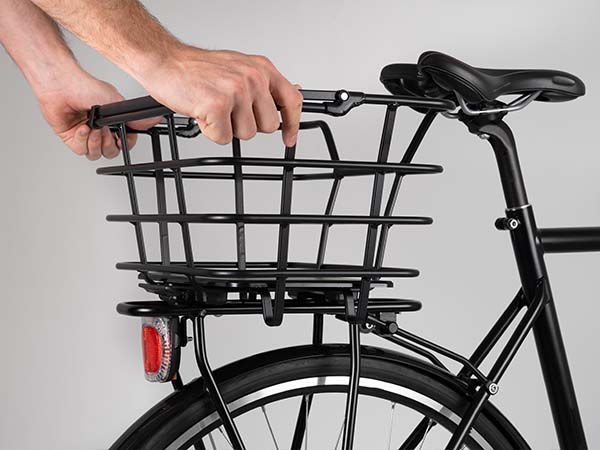 To remove, simply pull the latch upwards and lift it off.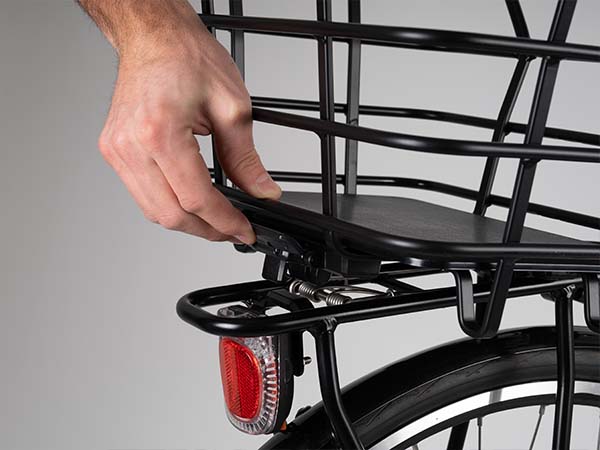 Functional, Secure, Elegant, and Simple.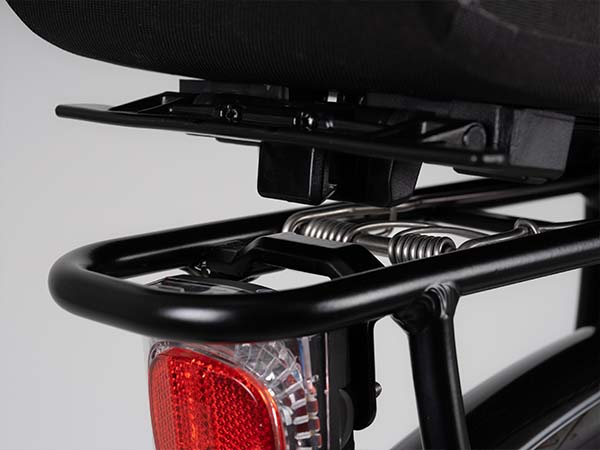 In 2018, our intuitive AtranVeloSystem (AVS) for bike racks and accessories received one of the most renowned design awards in the world, the Red Dot Award. The international jury comprising of independent design experts noted an outstanding level of innovation, functionality, user-friendliness, and longevity in their assessment.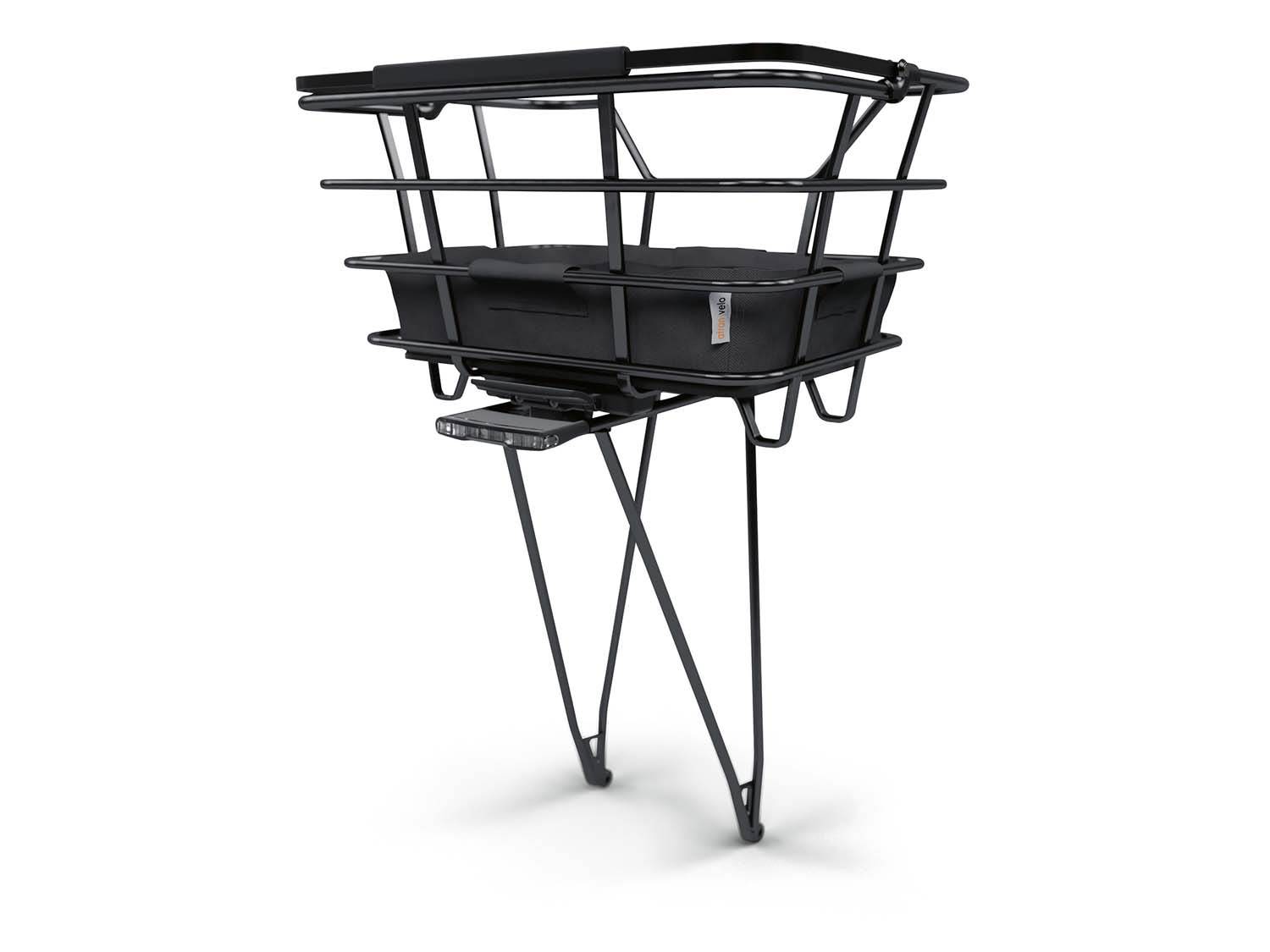 AVS is renowned for its user-friendliness, functionality, and innovative design. Right out of the box, everyone understands how it works. TRIPLE X takes full advantage of our modular accessories and allows you to attach, match, mix, and switch bike accessories more freely. You can slide on one or two side panniers and pop on a top bag or stylish basket.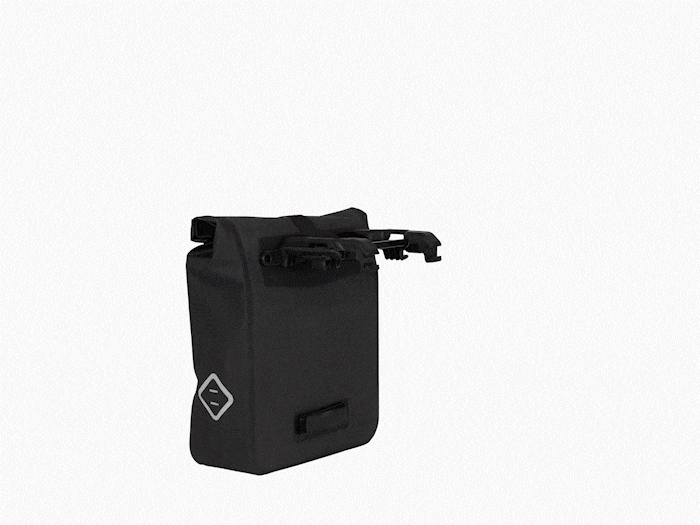 At AtranVelo, we're proud to offer our own line of premium cycling accessories, including baskets, panniers, bags, wooden crates, and more. Our products are known for their high quality and durability. Additionally, our range of AVS products is also available from leading brands such as Cortina, New Looxs, e-Omnia, ConTec, Spectra, and many more partners globally. This extensive availability ensures that you can easily find and access the right accessories for your cycling needs, no matter where you are in the world.
LICENSE
AVS is an open system, so manufacturers can license it to produce their own AVS carriers and accessories. It is used by well-known brands such as Conway, Cortina, Crescent, Bianchi, Nishiki, Raleigh, Skeppshult, Falter, Haibike, Helkama, Winora, Kildemoes, MBK, Victoria, Winther, and many more. If needed, carrier platforms can be tailored to customer requests.
If you wish to partner with us and license AVS, please send us an email.