NEWRACK 3
Adaptor to attach AVS compatible bags, baskets, crates, and other accessories.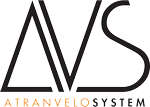 Our award-winning mounting system
The AtranVeloSystem is a patented, minimalistic system for the secure attachment of accessories to your bike. It includes a wide range of high-quality bags, baskets, and boxes for different occasions. All accessories are modular and compatible with both front and rear carriers, so you can fit them in whatever way suits you and your bike the best.